---

---

---
A+ Better Business Bureau Rating !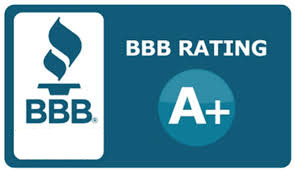 ---
All Productions was founded by Dr. Stephen A. All III in 1972, who was the first Director of Television at KPBS-TV and a radio DJ. In the family tradition his son Michael is the new C.E.O., has his Degree in Television Production and more than 20 years of experience. Michael is second generation Producer, Director, Photojournalist, M.C., Voice Talent, DJ and more. We have produced over a thousand Television shows and DJ'ed on hundreds of shows. We have shot on the Hollywood Red Carpet, African Safari's and completed projects all around the world !
With all this television, film, video, A/V, DJ, and computer background, we can assure our clients the best professional product. We are so confident in our production services we ask our clients to compare Quality, Experience and Value.
Our customer service can't be beat !

619•248•2566
Email Us - allproductions1@sbcglobal.net

P.O. BOX 19755 SAN DIEGO CA. 92159

---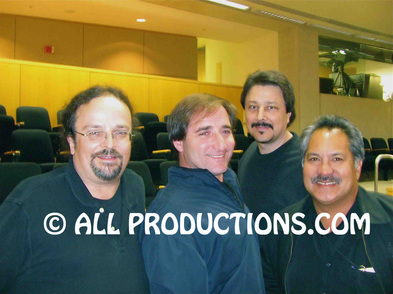 ---
Previous Clients of ALL PRODUCTIONS -


"E" ENTERTAINMENT Television - Shot and edited footage used for National Broadcast Television.

SDG&E - Produced, Shot, Directed, and edited safety and training videos for San Diego gas and electric.

KUSI-TV - Shoots interviews, breaking NEWS and Sports. Works directly with Anchors and reporters editing News Packages for Broadcast Television. Under extreme deadlines, utilizes the script and own personal creativity to innovate edits of sound on tape (SOT) and (VO). Adds field footage and B-roll to create two- minute NEWS segments for the 6:00 p.m., 10:00 p.m. and 11:00 p.m. NEWS. Works independently and as part of a team.

Shot Governor of Texas Rick Perry, Secretary of State Colen Powel, Johnny Mathis, Gladys Knight,
Wane Brady( host of Let's make a deal ), Melissa Ethridge, C.E.O. of AT&T and other members of congress. Shot interview of the prime minister of Great Britten. Technical Director for Hyundai Corporation's National Press Conference, T.D.For Al Gore Campaign, T.D. for Microsoft's annual convention, T.D. U.S. Navy convention Directed and operated Tricaster switcher for Harman Kardon / JBL show, and many more . . .

The Science Network - Shot interview of world famous James Wattson ( Discovered D.N.A. ) and Nobel Prize winner Richard Axel. Worked with Neil Tyson ( Host of Cosmos on Fox-TV, and guest on Big Bang Theory ) (Along with many other noted scientists for educational videos and live streams to TSN (The Science Network) television. Using television cameras and 4 camera switcher ( Live ) .

T.V. PHOTOJOURNALIST- KGTV( ABC),KFMB-TV, KFMB(CBS), KNSD (NBC),KUSI, Fox
World wide coverage
Shoots live coverage of interviews, news and other events. Submits footage to broadcast stations for use in news and other programs.

U.S. Navy - Great Lakes, Illinois - Orientation and training using television as a training tool.
Display Systems Corporation - St. Paul, Minnesota - Traveled to 18 locations in the U.S. to set-up TV library retrieval system.

Ferrex Corporation - Sunnyvale, California - Training manual for computer-generated photo scanner.

Hollywood Presbyterian Hospital - Hollywood, California - Nurses' training of procedures using television.

IBM - University of Colorado - Boulder, Colorado - Use of audio carrels at university, setting up library and assessing utilization.

U.S. Navy - Sunnyvale, California - "Polaris Repair" - Redevelopment of recording device used aboard nuclear submarines for reference and training of personnel while "underway."

U.S. Navy - USS Coral Sea - Activated closed-circuit television aboard aircraft carrier during War.

San Diego County - Drug Education - Developed two thirty-minute television programs for use on local and statewide television. This program was hosted by the legendary Johnny Cash.

Spencer Foundation - Fallbrook, California - Wrote/produced/directed a thirty-second Public Service Announcement (PSA) for "Missing Children" viewed on over 350 TV stations, 10 Spanish stations. Invited to President Reagan's inauguration.

USIU-Africa - Nairobi, Kenya. Wrote curriculum, syllabus, computer training manuals for freshman, junior and senior classes. Technically set-up and administered a 25-station computer lab for student use.

Coldwell-Banker - San Diego, California - Training real estate personnel in computer usage, financing and motivational skills.

Skill Centers of America - San Diego, California - Wrote complete proposal and received Institutional Approval from the State Department of Education for a post-secondary and vocational education school. Produced, Shot and Directed PSA'S for television spots.
And many, many others.


---

Dr. Stephen All (Steve, to his friends) came to San Diego in 1966 to activate KPBS - Channel 15. Previously, he had been the Voice of the University of Michigan Television, a news anchor and a disk jockey, as well as an FM Radio Station Manager. His B.A. and M.A. are from the University of Michigan, and he has a doctorate in business administration from USIU...... Dr. All and the staff @ ALL PRODUCTIONS.COM
---
TESTIMONIALS


Dear All Productions, ( From SDG&E )

We thought the DVD training videos were so awesome! Thank you! Very creative, and yet shocking to see myself on the television screen !

Thank you again,

Andrea - SDG&E


To the staff at All Productions,

Thank you for your help, time and professionalism on our Wedding. There is no doubt in my mind that Jeff and I have hired the BEST production company in California ! Mike, you did a great job as our DJ and all of the announcements were flawless ! The photos today will be cherished for years to come. I could thank you a hundred times more. EVERYTHING WAS PERFECT !
Love,

Jeff and Camile M.




Dear All Productions,

We just wanted to say thank you so very much for the beautiful wedding video. It was truly incredible. We watched the highlight video first and it actually made me cry. We had so much fun watching it and sharing it with our families over the holiday. Everyone thought it was great ! The way you edited the interviews with a picture in picture and mixed it with the dancing was perfect. We really appreciate the extra time we can tell you put into making our video. I know we can't possibly thank you enough because this is something we will treasure the rest of our lives.
You made every minute interesting and fun to watch.
Thank You, Thank You, Thank You,

Greg and Karen B.



Dear All Productions,

Thank you so very much for my beautiful wedding video. I watch it every day. When ever I watch it I feel as if I'm reliving my special day all over again. Your team captured all the important elements of my wedding day. From capturing the audience view of the six of us at the alter, to our CD party favor and all the speeches. Once again, Thank You you were a pleasure to work with and you did a great job. I almost forgot, my favorite part was the wedding highlights.

How beautifully put together.

Sincerely,

Cindy O



To All productions,

I am absolutely thrilled with the Quality of the DVD of Daniel and Dana's Wedding. I am just now barely able to watch it without reliving the emotions of that most beautiful day. The clarity and expert framing of each important part captured their wedding in detail. I missed out on some of the events on that day, but now have a lasting and elegant reminder to refer to. I want to thank you for your expertise and professional attitude.
As you know I have worked in the entertainment field for 28 years so I have had the opportunity to view a lot of video work. I want you to know that your final product was excellent and edited beautifully. Thank You again for making Dana and Daniel's wedding day into a treasure to show our friends and family for years to come.

Sincerely,

Karen A.
Vice President Production Associates


Dear Mike,

You are a great DJ and the pictures are BEAUTIFUL ! The Reception was fun, it was everything we wanted and more.

Love,

Collen and Jeff F.





To the staff at All Productions,

Thank you so much for the beautiful memories that you helped create of our wedding in June. Your artistic eye and keen sense of beauty helped create a special keepsake of the events of our unity. Your professionalism and positive attitude made us feel very comfortable in your abilities. We love our DVD and we watch it frequently and share it with our family and friends. The editing is flawless and the graphics are spectacular. We love the fact that you added our favorite music and the sound quality was amazing. We especially love the section of the video called " Wedding Highlights " that you set to our song. Your company motto is " We Make You Look Good " and you DID ! We both appreciate your hard work and effort that you put into your job. We will certainly recommend you to our friends.

Thank you so much,

Scott and Troya P.

© ALL PRODUCTIONS.COM 2018