Southern California's choice in event
productions for over 40 YEARS ! !

---

---
A+ Rating Better Business Bureau

Anniversaries, Birthdays, Corporate Events, Graduations, Reunions, Retirement, Weddings and More !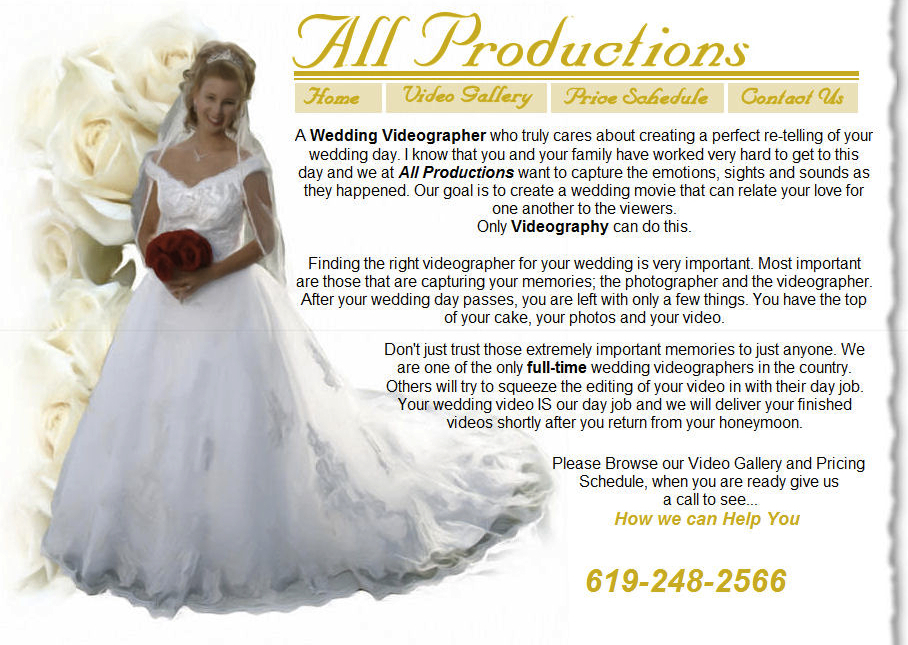 ---
Quality, Experience, and Value for over 40 YEARS !
Most companies don't offer High Definition Studio Television Cameras for Your Event. We beat the competition with lower prices and BETTER QUALITY !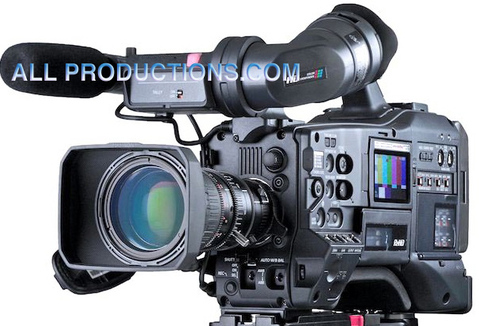 Greg and Karen were Married near the beach in Southern California.
This is their letter to us . . .

Dear All Productions,

We just wanted to say thank you so very much for the beautiful wedding video. It was truly incredible. We watched the highlight video first and it actually made me cry. We had so much fun watching it and sharing it with our families over the holiday. Everyone thought it was great ! The way you edited the interviews with a picture in picture and mixed it with the dancing was perfect. We really appreciate the extra time we can tell you put into making our video. I know we can't possibly thank you enough because this is something we will treasure the rest of our lives.
You made every minute interesting and fun to watch.
Thank You, Thank You, Thank You,

Greg and Karen B.
---
Greg and Karen's Wedding video recap. ( This clip is at the end of their Video )

We hope you enjoy this Wedding montage video, please click below.

---
---
Wedding Packages & Price Schedule... (Please Note: we can customize Packages especially for you ! )

Package 1 Photo or Video
This package starts with one camera at the ceremony location. Featuring a documentary style Photo or Video, we capture the romance of your wedding day in a very accurate manner. This includes a wireless microphone (for Video) and four hours at the reception. Formalities include but not limited to, First Dance, Father Daughter Dance, Toast, Cake cut, etc... Two DVD'S included for Video, 1 or Two DVD'S for photos.
Book by April 30, 2018 and get package 1 for as low as $995. Limited Time Special

Package 1 DJ/MC ( Please see DJ page )
Call now for these limited time rates ! ( Rates subject to change )
For average sized rooms, $CALL. for 5 Hours / $CALL. for 6 Hours. Please call for additional hours or larger Venues.

Limited Time Special:
Book by April 30, 2018
and get Video or Photo + DJ/MC ( Special Price listed above ) or BOTH FOR ONLY $ CALL. !
( Rates subject to change )

Package 2
Our most popular package. We start with a High Definition Digital Television Camera for unmatched quality at this price point. With an additional camera up close on the alter; we capture all the close-ups, just like the movies. We arrive early to capture the Bride and Groom preparing themselves for their "BIG DAY". Television camera coverage continues for four hours at the reception. All major events coordinated with the DJ and Wedding Coordinator. Including but not limited to, Grand Entrance, First Date, Garter, Bouquet, Cake Cutting and more. It's the Brides choice between a 60 picture photo montage or a highlight recap of all the days events to her favorite song. A combination of the two is also available.
Four DVD's included.
Limited Time Special: $ CALL FOR SPECIAL PRICE was $4995. ( Rates subject to change )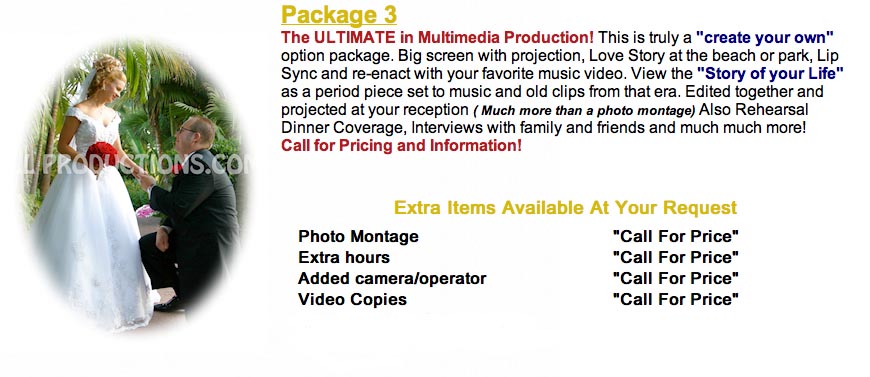 © ALL PRODUCTIONS.COM 2018